Haylie Duff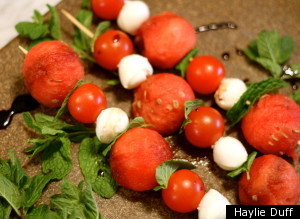 Watermelon Skewers
Haylie Duff has her own food blog,
The Real Girl's Kitchen
and she recently wrote an article for the Huffington Post on a healthy vegetarian recipe. Haylie has always been interested in healthy foods and exercise, and her gorgeous sister Hilary Duff often credits her sister to getting her more fit and healthy.
"
When I first started thinking of an awesome, healthy, vegetarian recipe for HuffPost High School readers, I had so many ideas that it was difficult to narrow it down to just one dish! There's a couple reasons that every teen should have some go-to healthy recipes on hand: first of all, healthy, home-cooked food can be more delicious than anything you'll get at a restaurant. And secondly, if you have some nutritious, easy recipes in your repertoire, you're almost certain to eat better and to save money.
After school or work, you're tired and it's easy to pick up some fast food on the way home. (Full disclosure: I know this because I am guilty of the same behavior.) But I promise you will feel like a whole new person the minute you cut the junk. I'm not talking about weight loss... I'm talking about brain power, renewed energy, and clear skin. Now that all the holidays are over, let's clean up our acts together!
These watermelon caprese skewers are tasty and healthy -- but there's more. Not only is this a no cooking required snack, but it's also a no clean-up required. I often have days where I feel like making something yummy but don't feel like trashing my kitchen, and the clean-up stands in the way of making something delicious. You'll only need three kitchen items to make these gorgeous kabobs -- a knife, a melon baller, and a cutting board -- which makes for super easy cleaning. If that's not incentive, then I got nothin'.
"
Watermelon Caprese Skewers
What you need:
1 small seedless watermelon, cherry tomatoes, mini mozzarella balls, fresh mint, balsamic vinegar, sea salt, BBQ skewers, a melon baller
How to:
Using a melon baller, scoop some pretty balls of watermelon. That's literally it. Stack your skewers however you fancy them. I alternated flavors but watermelon, tomato, and two mozzarella balls is a good-looking order as well. Once assembled, drizzle some balsamic vinegar across the top and give em' a sprinkle of salt.
This is a great vegetarian option for a BBQ... and if you feel like experimenting a little, throw these babies on the grill before you add the mozzarella. Grilled watermelon is oh-so-tasty.
Love, Haylie (taken from the Huffington Post)